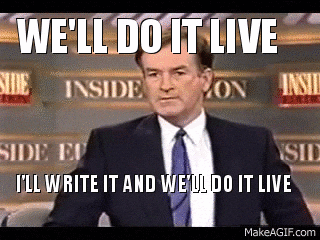 I like to live on the edge. I install updates without backing up my data. Unplugging a flash drive before ejecting it is my go-to move. Finally, building and testing a WordPress website on a production server and not the staging or testing server is how I roll. Yep, I like to do it live! Yet, there's a plugin that hides my work-in-progress. What is it? Keep on reading.
Why I Do It Live?
I like building my websites on the production server because 1) it's easier and 2) once I have everything finished it's easy to publish the website to the public. However, going this route means your website is visible to the public. Meaning they will see your design as you make updates. That's bad because this is confusing for your visitors. Finally, they make think your work-in-progress website is the finished product and is unfinished.
So How Do I Hide My Website While I Work On It?
I use the following WordPress plugin: WP Maintenance Mode.
The plugin is free to use and is highly customizable. I configure the plugin to show the name of the new website, that it's currently under construction, and show a countdown counter of when the site will go live.
In addition to that, you can add a mailing list option so visitors can sign up to be notified when the website goes live. This is a good way to build up an audience, especially if you are opening an ecommerce store. You could lure people to visit your website on day one by offering them a coupon if they sign up for the mailing list.
The best feature of this plugin, in my opinion, is how I can work on configuring and designing the website on the production server while hiding it from the public. This means I can test changes live on the website while I'm logged into my WordPress dashboard and you can't see it. Pretty snazzy!
---
You made it to the end! Thanks for reading this post and visiting Brittbot. Make sure you bookmark this website so you can stay current and improve your business' website.